1. The beautiful
Amy from Fashion and Beauty Finds
is not only wearing a CWAK lace necklace today but doing a
giveaway
so you can win one yourself. Even if you have every single color of lace necklace already, please hop on over to Amy's blog and check it out. She is amazingly stylish and always looks effortlessly chic in her outfit posts.
2. I was selected as a Friday Five Linkup Finalist by
Amber of Face IT Catalog
and
Amy from Coffee Beans and Bobby Pins
(yay!). Each week these gorgeous ladies pick five blog posts from the previous week and post them on Friday for all to read. And this Friday, I was selected! Woo-hoo! Be sure the check out their blogs to see the other finalists for the week!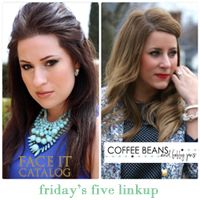 3. I was dinking (is that a word? spellcheck says "no") around with some ribbon the other day trying to figure out what to do with it. At the same time, I had just ordered this
Cara Bow Bracelet
from Nordies and was literally counting the days till it shipped. I decided I couldn't wait for it anymore, took my ribbon and made myself a homemade version of the bow bracelet!
See...
And then I made another color...
And then I wore it out and got so many compliments on it (and one offer to buy it), I decided that I am going to start selling them in
my Etsy store
!
It's really black...even though it looks navy!
Because I am so excited about these, I thought I would
give one away to one lucky reader!!

.
All you have to do is comment below and let me know what color bow (black or white) and what color chain (silver or gold) and I will pick one winner. And hey, if you hate bows, you can still enter because you can take it off and have a cute chunky chain bracelet - everyone needs one of those!
I know I've thrown a lot at you so here's a quick recap:
* Comment below to enter to win a bow bracelet before they are released to the public!
Lastly, have yourself a fantastic weekend! (I'm so bossy, huh. It's all done with love...promise!)